Services
View and select our services
Air
AIR SAMPLER
Air sampling is an instrument to monitoring a Microbiological or chemical air sample in a physical known volume of air. This process commonly used in industrial or environmental application.
Industrial air sampler used mainly in manufacturing to monitoring mainly foods products in foods packages or containers, it's important to check and calibrate regularly to insured foods safety and quality also legal requirements.
CI technical team can calibrate and provide all test report for the instrument by using specify calibration reference depending each make and model according to manufacturing specification.
WHAT IS IT?
A Microbiological Air Sampler physically draws a known volume of air through or over a particle collection device which can be a liquid or a solid culture media or a nitrocellulose membrane and the quantity of microorganisms' present is measured in CFU (colony forming units)/m3 of air
WHAT IS IT USED FOR?
Air sampling meter used to assess microbiological pollution and monitor hygiene. Designed for use in hospitals, clean rooms, food, beverage, cosmetics, and pharmaceutical production facilities.
Portable handheld air sampler or particle counter used to monitor particulate matter (PM) concentrations in the air. Designed to aid in indoor air quality (IAQ) assessments, this particle counter also measures air temperature and relative humidity (RH).
WHY IS IT IMPORTANT TO HAVE IT SERVICED AND CALIBRATED?
Instrument calibration and maintenance are an integral part of operating an air quality monitoring site and are vital for data quality assurance. Accurate and reliable monitoring results are crucial for data analysis, particularly when the monitoring results are to be compared with the relevant standards or guidelines for compliance purposes, or for population exposure and health risk assessments. Where such analyses lead to air quality policy formulation and air pollution mitigation strategies, the quality of the original data is especially important.
WHAT CAN CI SCIENTIFIC OFFER?
At CI scientific we can calibrate and service Air Sampler.
Brabender
Brabender GmbH & Co. KG develops, produces, and distributes as a well-known manufacturer instruments and equipment for testing a broad range of material properties. The range of application extends from laboratory equipment through to small-scale production. Their product portfolio provides applications of numerous industrial segments of the sectors food and chemical. The fields of deployment are located in quality control as well as in R&D.
C.I. Scientific, being the sole exclusive distributor in Australia, provides calibration services on Brabender's equipment. Our certified technicians will make sure that your instrument provides accurate measurement and high quality output.
Density
WHAT WILL CI SCIENTIFIC DO?
Calibration determines the measurement accuracy of your density measuring equipments. With routine calibration and adjustment, you can measure safely, ensure complete compliance and avoid the costs of inaccurate measurements.
CI Scientific will ensure that your equipments are in a perfect working order and always reading accurately, consistently and efficiently
CI Scientific can help customers with all the maintenance repairs and services on their density measuring equipments
WHAT IS DENSITY MEASURING?
Measurement of density is an important quality parameter of both raw materials and finished products. Various techniques enable the density of solid, viscous and liquid materials to be accurately determined e.g. metals, plastics, chemicals, lubricants and food.
A variation in a raw material, indicated by a change in the density, may have a detrimental outcome on the functioning or quality of the final product. Density measurement of raw materials can be used to confirm the purity of the material. If a substance has been adulterated with a cheaper alternative, the measured density of the composite material will be different from the pure substance.
Density can also be used to ensure homogeneity. If a manufactured part is not homogenous, key performance attributes such as strength and crack resistance can be affected. For example, an internal air bubble could ultimately cause a part to fail when placed under stress. Random sampling of parts is a simple and cost-effective way to monitor ongoing quality.
Electrical
WHAT WILL CI SCIENTIFIC DO?
We can calibrate & repair a full range of electrical & electronics equipment to the highest possible standards of accuracy, ensuring superior reliability to give your business peace of mind with unrivalled quality assurance standards.
We commit to customer satisfaction through establishing, implementing, maintaining, and improving a quality management system with the quality objectives appropriate to meet the requirements to Australian standards.
CI Scientific can help customers in supplying and selecting the correct equipment for the excise testing that best meet your individual needs, through our expert knowledge.
WHAT ARE ELECTRICAL TESTING EQUIPMENTS?
Electrical Testing Equipment is used by many professionals like Electrical Contractors, Constructions, Manufacturing, Maintenance Service Providers, Defence & many more such as but not limited to:
Multi-Meters
Clamp Meters
Voltmeter
LCR Meter
Mega Ohm Meter
Insulation Tester
Flow
WHAT WILL CI SCIENTIFIC DO?
Even the most resilient flowmeters can fall out of calibration. A Flowmeter's performance will degrade over time; parts wear out or break. Flow meters can drift out of standards due to the following factors:
Improper Usage
Aging
Internal Surface Deposits
Contamination
Severe Contact with Chemicals
Differences in Fluid Property
External Influences such as Pressure, Temperature, Vibration, etc.
CI Scientific can calibrate your Flowmeters very close to the actual conditions the equipment is used as it is performed in a controlled environment. We ensure the accuracy of results by providing the history of flowmeter performance which will help the client determine if the equipment should need a re-calibration.
WHAT IS FLOWMETER?
A flowmeter is a device used to measure the volume or mass of a gas or liquid. It is referred to by many names such as Flow Gauge, Flow Indicator, Liquid Meter, Flow Rate Sensor, etc. It measures the rate that fluids or gas moves through it.
HOW DOES IT WORK?
Flow meters measure either mass or volume. In a volumetric flow meter, the flow Q is equal to the cross-sectional area of the pipe, A, and the velocity of the flowing fluid, v: Q = A * v. In a mass flow meter the mass flow can be represented this way (where Q is the volumetric flow rate and ρ is the fluid density): ṁ = Q ∗ ρ
Force
WHAT WE DO
CI Scientific is a test laboratory accredited to ISO 17025 with the capability of providing on-site and off-site calibration of torque wrenches to industry standards. Our highly trained technicians will verify your tools' accuracy and ensure that they are re-adjusted or re-calibrated to the highest degree of accuracy.
We will arrange a schedule for regular verification and calibration of your torque wrenches to ensure they can provide consistent torque values that you can rely on. With our state-of-the-art laboratory-grade equipment, we will ensure that we undertake your calibration requirements within a 48-hour turnaround time (applicable to New South Wales only) so you can return to work as quickly as possible.
We are fully committed to the complete satisfaction of our customers and we can always be relied upon to deliver excellent services that are cost-effective and surpass customer expectations. Contact us today to obtain further information or to schedule the calibration of your torque wrenches.
THE IMPORTANCE OF TORQUE WRENCH CALIBRATION
The essence of measuring torque value is to ensure that the fastener is not over-tightened or under-tightened while ascertaining that the bolt or nut is properly fastened. Under-tightening a car part, for example, can result in a car that is structurally weak and potentially unsafe for use. Over-tightening can result in damage to the fastener and potentially, the car part, with the requirement for an expensive replacement of the part.
A torque wrench must therefore be set to a precise reading to achieve the desired torque. Our technicians can accurately test, calibrate and repair your tools on a regular basis to ensure that you achieve accurate results with your torque wrench all the time.
FACTORS INCLUDING ACCURACY
A number of factors influence the accuracy of a torque wrench. The more often a torque wrench is used, the more frequently the device has to be re-calibrated. Extreme weather conditions and exposure to the elements such as rain, sleet, or snow can cause a torque wrench to rust prematurely and interfere with its internal mechanisms. This will cause the device to perform poorly.
The application of an inappropriate amount of force on the grip of the device may overload it and compromise its accuracy. To ensure that your torque wrench provides consistently accurate and repeatable results, it is essential to validate its accuracy periodically. Torque wrench calibration should be done according to practices that comply with industry standards.
CI Scientific calibrate all types of Torque Wrenches and Torque Measurement Devices (Meter)
We calibrate all types of Torque Wrenches whether they are Mechanical, Hydraulic or Electronic and regularly service models such as the Norbar Torque, Warren & Brown, Kincrome and many other brands.
Torque Wrenches range (0.1 – 6800nm)
Gas
WHAT WILL CI SCIENTIFIC DO?
Routine calibration and maintenance of gas monitors are essential. CI Scientific will ensure all the sensors are calibrated to the correct manufactures specifications and that all the alarm levels are correct and will activate when a toxic gas is present.
CI Scientific will ensure that your fixed and portable gas monitors are in perfect working order and always reading accurately, consistently and efficiently to make this world a much safer place.
CI Scientific can help customers with all the maintenance repairs and services on their fixed or portable gas monitors.
CO2 & O2 depletion detectors
Enclosed area / Portable gas / PID / Plant Gas monitors
Fixed gas / Car park gas detectors
Central control systems
Gas alert clips
Alcohol breath-testing equipment
WHAT IS GAS MONITORING?
Safety is the first step in everyone's life. Going to work, school, or to your local shopping centre, coming home safely is the number one thing we all want.
Having a fixed or portable gas monitor reading the toxic gas levels and alarming when there is a toxic hazardous substance in the area is important. Everyone is alerted and advised to evacuate safely when an alarm is raised. Accuracy, consistency, and efficiency are the key aspects of a safe gas monitor.
HOW DOES IT WORK?
An alarm will be triggered when a gas level passes a limit to activate a warning alarm, also known as a "Low alarm" to notify any personnel in the area to be alerted that there is gas present and to start evacuating. Once the gas level reaches above the warning alarm it triggers the "High alarm", meaning that the gas has reached a high concentration and is dangerous to the health of anyone if exposed to the excessive levels of toxic gases.
Toxic gases are an extreme hazard as you cannot see it, feel it, or smell it before it's too late. Some examples of where gas monitoring is recommended due to the poor quality of air are any confined space area such as coal mining, car parks, liquid nitrogen rooms, or general maintenance cleaning areas.
Light & Sound
CI Scientific offers services to ensure proper calibration and accurate operation of light & sound instruments at your site or at our facilities. Our expert Service Technicians will inspect and test your instrument calibration, adjust mechanical and electro-mechanical parts, replace defective parts if needed to keep your equipment at optimal working condition.
We provide calibration services for the following:
Spectrophotometers
Sound Meters
Guaranteed that our team will fulfill all your testing and calibration needs following the industry standards.
Let CI Scientific take care of the rest. Click the "Book Your Calibration Online" button and fill up your details and your preferred date and a friendly member of our team will contact you shortly.
Mass
During Mass Calibration, the test weights derived from the calibrated items are compared to specified measurement standards. The process will determine if the accuracy of measurements are being maintained. Adjustments can be made to instruments to bring measurements within tolerances or weights can be replaced as needed.
Mass calibration services are provided either at our in-house testing facilities or on-site by highly experienced technicians. Our in-house lab and field technicians are specially trained to perform fast calibrations without compromising the reliability of results. They work according to our stringent internal procedures and the customer requirements specified with each order.
CI Scientific has a climate-controlled laboratory for stabilizing standards and performing calibration services.
CI Scientific provide a high quality of service that you can trust,
You can check our NATA Accreditation for our Mass Calibration Service here
NMI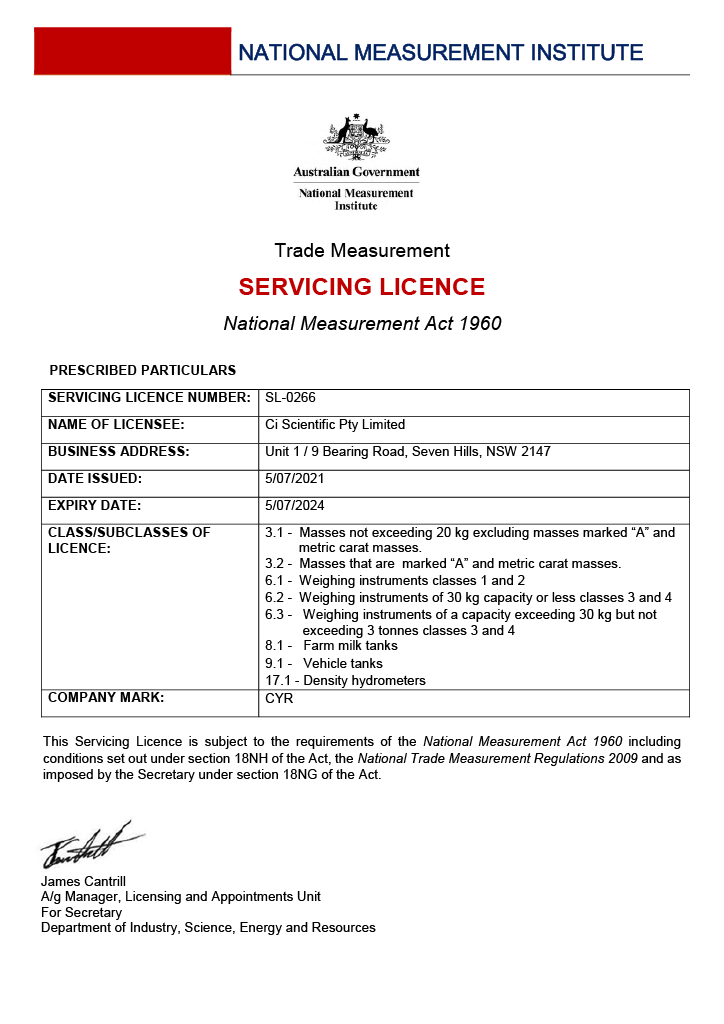 NIR
WHAT CAN CI SCIENTIFIC DO?
CI Scientific can help you to choose the right NIR according to your application. The company is an agent of Zeutec GmbH for selling and servicing the NIR in Australiasian region. The company can also help you to perform annual service and calibration on NIRs.
WHAT IT IS?
Near Infrared (NIR) analysis is a spectroscopic technique that makes use of the naturally occurring electromagnetic spectrum from 700nm to 2500nm. NIR spectra analyser uses this spectroscopy technique to analyse the results depending on the output and input wavelength. Incandescent or Quartz halogen light bulbs are most common used light source to generate infrared radiation for analytical application. Depending on wavelength to be measured, types of detector device is selected. Silicon based CCDs are suitable for shorter end of NIR range where as InGaAs and PbS devices are more suitable for range over 1000nm.
WHAT IS IT USED FOR?
Typical applications of NIR spectroscopy include the analysis of food products, pharmaceuticals, combustion products, and a major branch of astronomical spectroscopy. The state of product can be liquid, powder, paste or solid. It is also used for determining the quality of forages, grains, and grain products, oilseeds, coffee, tea, spices, fruits, vegetables, sugarcane, beverages, fats, and oils, dairy products, eggs, meat, and other agricultural products. It is widely used to quantify the composition of agricultural products because it meets the criteria of being accurate, reliable, rapid, non-destructive, and inexpensive. Most common measuring parameters are moisture, protein, fat, sugar, starch, acidity, salt, ash, alcohol, etc.
WHY IS IT IMPORTANT TO BE CALIBRATED?
As NIR spectra analyser is secondary method of quality control, it needs predefined data and analysed results as a primary reference. Every time when reference samples are changed, it is important to create a new calibration data base or update the existing calibration database with new samples. It is also recommended to update calibration data base every 6 months or annually.
Pressure
Maintaining the Vital Pressure
The demand for trusted pressure calibration solutions
The force exerted in an area or object is simply known as pressure. Measuring it will determine the amount of force to use, keep, or measure regularly. Absolute, gauge and differential pressures are the 3 kinds of pressure measurements, each with respective devices.
Calibration of a pressure gauge is completed by way of a comparison between a calibrated reference gauge and a non-calibrated pressure gauge. This process looks at comparing various test points across the range of the pressure gauge. The Instrument Under Test (IUT) should match the calibrated reference. If it does not match, then it should be adjusted (If applicable) or come close to the desired pressure measurement. The known error margins of the IUT are those that do not match the reference.
Pressure gauges are mechanical instruments commonly used in industries that operate with devices providing the force mechanisms in the production process. Mechanical or analogue gauges normally drift due to mechanical stress in time, and other affecting conditions. Quality problems with the products may come undetected which would lead to serious safety issues and increased production costs. Therefore, pressure gauges should be calibrated regularly to expect correct measurements.
CI Scientific - Quality Assured Calibrations
The precision and traceability of the reference measurement instrument used to calibrate a pressure gauge is critical. When calibrating a pressure gauge, the values across the entire measuring range are checked, including the zero-point, intermediate values, and full-scale values. After the outputs have been verified and the gauges have been adjusted, the device is calibrated.
CI Scientific is accredited to conduct testing on the following equipment:
| | | |
| --- | --- | --- |
| Magnehelic Pressure Gauge | Pressure Gauge | Vacuum Gauge |
| Manometer | Pressure Vessel - mA readings | Blood Pressure Monitor |
CI Scientific's calibration services ensure that every type of pressure gauge that a business may require is serviced on a regular basis. Its pressure instruments can be traced back to the National Institute of Standards and Technology (NIST), and it provides calibration for pressure and flow equipment such as:
| | | |
| --- | --- | --- |
| Air or pneumatic pressure gauge | Hydraulic Pressure Gauge | Vacuum Gauge |
| Differential Pressure Gauge | Magnehelic Pressure Gauge | Blood Pressure Monitor |
CI Scientific is the Best Option
With CI Scientific calibrating your gauges you can rest easy knowing that they were calibrated correctly the first time. With that peace of mind, CI Scientific is helping to maintain your safe workplace by reducing the risk of hazardous incidents, as our certificate will pinpoint the pressure gauges outside of your tolerance and or manufacturer's tolerance. CI Scientific is your service provider for high-precision calibrations of pressure gauges.
CI Scientific has a team of highly trained specialists in the field of pressure calibration. With more than 51 years of technical and industry experience, CI Scientific's team is equipped to handle your pressure calibration needs.
Time is of the essence
CI Scientific is not just your calibration organization we are your business partners; scheduling your equipment through our Asset Management System (AMS) ensuring your calibrations occur when they are due. CI Scientific's service team is equipped with state-of-the-art equipment to carry out the calibrations on-site or in-house. If you are not one of our partners and new to the CI experience and have forgotten to get your pressure gauges calibrated, contact us now for our priority service.
Committed to You!
CI Scientific is committed to you and your calibration needs. With a responsive, proactive, and dependable team we get things right the first time. Excellence is our continuing commitment to you.
Contact us now for your pressure calibration requirements!
Weighing
Keeping weighing scales' reliability
CI Scientific is the trustworthy and expert partner that confidently assures the consistent accuracy of its customers' scales, balances, and load cell calibration devices. It is one of Australia's go-to companies for calibration services. Its test laboratory is accredited by the National Association of Testing Authorities (NATA), ISO 17025 and ISO 9001 certified, and accredited and certified Trade Verifiers. CI Scientific provides quick online verified reports to meet all your auditing needs, backed up by a full quality team of Metrologists.
CI Scientific's state-of-the-art facilities regularly calibrate:
Measuring scales and balances covering micro balances down to 0.0000001g up to 100 Tonne
Tension testing devices up to 16 Nm
Different types of load cells in tension and compression
Tanks
Hoppers
Moisture Balance
Checkweighers
Platform Scales
Batch Weighers
Counting Scales
Carat Scales for Gems and Gold
CI Scientific is the Best Option
A broad section of industries ranging from one-man testing facilities up to multi-national corporations rely on CI Scientific to meet calibration of scales regulations and requirements for certain industries, essential to research facilities, universities, general laboratories for their operations including delivery companies that weigh parcels to determine precise shipping costs.
While manufacturing companies must use accurate and certified industrial scales to measure raw materials to create compound products, erroneous measurement of constituents subsequently produce recalled products, financially hurting a business, at a price that may ruin the company's reputation.
Time is of the essence.
To ensure that all your calibration requirements need are acted upon on the same day, our team of highly trained technicians is prepared and equipped with state-of-the-art equipment, to carry out the calibration on-site or in house, cutting down customer downtime. As business partners, CI Scientific together with its clients plans a calibration schedule for periodic scales calibration and ensures that all compliances are met.
Continuing commitment to serve at your convenience.
CI Scientific takes pride in its 51 years of accumulated experience to stay responsive and dependable along with the rest of modern service organizations.
Customer service is guaranteed since we will get it right not just from the first time, we served you, but every time trouble arises on your weighing equipment. Excellence is our continuing commitment to deliver.
Contact us now for your calibration requirements!
Weighing equipment calibration is integral to total quality management.
Accurate weighing equipment is indispensable in almost every business. Generally, all business enterprises cannot escape the reality that in their operations, specific industry scales are involved. The exploitation of raw materials by Primary Industries like mining, farming, and fishing adhere to a weighing process as a basis for pricing. Manufacturing as a Secondary Industry like steel companies and carmakers rely on weighing instruments in assuring correct capacities. In the service industry in areas such as education, travel, and tourism, companies need weight measurements in their operations. Research and development industries otherwise known as the Quaternary industries would not be devoid of a digital weighing scale as a research tool.
The damage that the slightest inaccuracy in weight may not only be measured in monetary terms alone but qualitatively tarnishing the company's credibility as legal for trade. Precise and robust precision balance must be assured, but its consistency may become inaccurate with a device's wear and tear. Regular calibration should be part of a company's operating procedure. The frequency of calibration may vary considering the business environment including other factors such as temperature, vibrations, air drafts, chemical reactions, uncalibrated scales, magnets, electrical overloads, user error, improper grounding, slope, and/or inappropriate handling of the sample that affect the trustworthiness of a weighing scale to display the correct reading.
Take the case of an airline that caught negative attention when a video has become viral on social media with more than 799,000 views and 15,000 Facebook shares in a week after a disgruntled passenger posted it and warned that the airline, he had was using one weighing scale that is "off by 14-kg." Good faith is an unacceptable excuse since checking passengers' luggage weight is at the very heart of an airline's operation. This is the price of negligence in preserving not only the integrity of their weighing devices but of their company.
Temperature
The urgency for trusted temperature calibration solutions 
Temperature is measured by the amount of heat energy an object has. It is a relative measurement with reference points determining a scale to accurately measure temperature. Whether electrical or mechanical, temperature measurement devices must be properly calibrated to determine precise warmth or coolness in attaining required outputs.  
We are authorized to conduct service on the following equipment: 
Autoclave

 

Cryoscope 

Dry Block 

Freezer 

Furnaces 

Hot Plate / Magnetic Stirrer 

Humidity Gauge 

Incubator 

Moisture Meter 

Moisture Oven

 

Ovens 

Refrigerated Bath 

Temperature and Humidity Data Logger 

Temperature Enclosures 

Temperature Meter and Probe 

Thermocouple 

Thermometer 

Water Bath 
The CI Science Quality Assurance (QA) 
Excellent calibration services from CI Scientific cover a broad range of temperature and humidity monitoring equipment, ensuring that devices perform at their best. Its state-of-the-art facilities and proficient team assure accurate and reliable results even when working on-site. 
CI Scientific is the Best Option 
A wide range of sectors, from one-man testing facilities to multi-national organizations, rely on CI Scientific to meet temperature measurement device scales laws and standards for certain industries, which are critical to research facilities, universities, and general laboratories.  
To measure warmth or coolness in the manufacturing of products, companies must employ accurate and approved temperature measurement instrument scales. Erroneous element readings result in recalled items, which can be damaging to a company's bottom line and can also tarnish its reputation.  
Get the most reliable calibration with CI Scientific's factory-trained and technically savvy service team accumulated 51 years of experience to stay responsive and dependable along with the rest of modern service organizations. 
Time is of the essence 
To ensure that all your calibration requirements need are acted upon on the same day, our team of highly trained technicians is prepared with state-of-the-art equipment, to carry out the calibration on-site or in-house. As business partners, CI Scientific together with its clients plans a calibration schedule for periodic scales calibration and ensures that all compliances are met. 
Continuing commitment to serve at your convenience 
CI Scientific's decades of experience developed a responsive and dependable team that will get things right not just from the first time its service is called, but every time trouble arises on your temperature apparatus. Excellence is our continuing commitment to deliver.  
Contact us now for your calibration requirements! 
Repair & Maintenance
This service has been selected.
LIMIT YOUR DOWNTIME AND IMPROVE EFFICIENCY WITH CI SCIENTIFIC'S REPAIR & MAINTENANCE SERVICES
Electrical and Mechanical parts wear & tear, they always seem to fail at the worst time.
Replacements can often be unavailable as machines and equipment become older and obsolete and some manufacturers discontinue parts or go out of business. Making a new part or component work in your old machinery takes time, expense and may not even be possible.
Parts repair can be the faster, less expensive alternative to buying new equipment. A good repair and maintenance service company, like C.I. Scientific, knows that business owners must keep their equipment running with minimal downtime and strong cost savings, so quick turnaround and quality repairs are essential.
Increased Cost Savings. Improved Reliability.
C.I. Scientific service facilities are best-in-class and ready to handle all your repair & maintenance needs. Our highly skilled technicians have the experience and technical knowledge to perform every repair at the highest quality and to the designated specifications.
Our repair and maintenance services are geared toward your immediate needs – providing a fast and superior solution at a significant cost savings. In addition to our repair and maintenance services, we provide reports if needed. We don't just want to fix your equipment – we want to provide you the highest-level of quality to support the extended life of your equipment.